By Dennis Schiraldi
I love to cook…
I love to cook steak…So it was a no brainer for me to share one of my favorite meals of how it all comes together. Full disclosure this dinner was prepared in a kitchen designed, built and installed by Crowe's Cabinets and I'm not just a client, I also handle their marketing.
So I came up with an idea because I truly believe that the kitchen is the most important room in your home. It's where all of our family events start and end.
It doesn't matter the shape or size of the kitchen, it's just where life happens in our home, maybe you can relate.
Our motto at Crowe's Cabinets is "if you can dream it, we can build it."

I also like to say that our kitchens are built to be lived in…

There are A LOT of people right now that are cooking dinner every night, so we thought it would a great idea to share some of our favorite memories and meals, thanks for checking out Cooking with Crowe's!!!
---
It Starts with A Great Cut of Meat & Good Bottle of Wine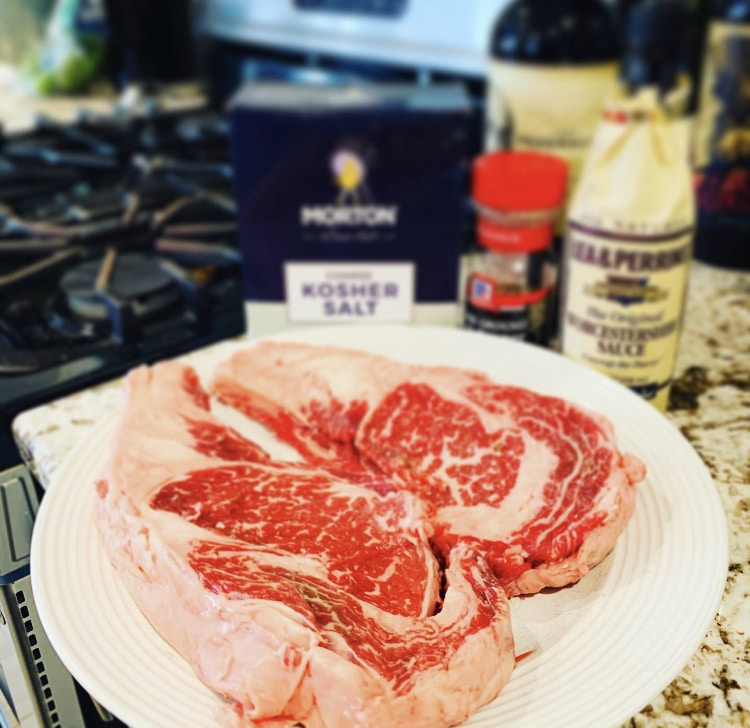 I'm a big fan of a ribeye or Delmonico because of the marbling in the meat. That and I usually like to get a good 2 fingers in width. I keep it simple.
Steak and Mashed Potatoes – Prep time about 45-minutes to 1-hour, cook time about 30-minutes.
Kosher Salt
Cracked Black Pepper
Worchestershire for marinating prior to cooking.
Trim the fat, however not too much it helps with the cast iron skillet and additional flavor that I don't eat but cut off later.
A good bottle of red wine…Purely for the chef!
Compliment the Meal with Mashed Potatoes
Mashed Potatoes Recipe
Potatoes
Butter
Sour Cream
Milk
Salt & Pepper
I cut up the potatoes, put them in water and fire up the stove. I bring the water to a rolling boil with the potatoes in the pot. Once that's done and they are tender, I drain the water, adding in milk, butter, sour cream, salt and pepper all to taste. I eyeball it, you kind of just know how much to use a pinch here, a spoonful there, it all works.
Proper Seasoning – Kosher Salt & Black Pepper
While I'm working on the potatoes I get the steak ready to cook by liberally applying the kosher salt and cracked black pepper. Also, this is a really great time to fire up the cast iron skillet. I like to get it where it's literally smoking hot. I use a light oil just so my steak does not stick.
If you don't have a cast-iron skillet I highly recommend it. It's the most versatile cooking tool I own…
A lot of times I like to reverse sear my steak, I'll leave that for another recipe.
Cook Time – 4 to 7 Minutes Per Side…
I know that my steaks are generally going to cook up in about 4 – 7 minutes per side. That said you can always poke your chin, upper lip and nose to see how well done your steak is cooked. Your chin is medium-rare. The upper lip is medium and the nose is well done. If you go a little longer you go a little longer. And there's times where I have a rather large cut of steak that I sear the outside for 2 – 4 minutes per side and then finish the cook in the oven for about 7 – 15 minutes on 450 – 500 degrees of heat.
Butter & Herbs As Needed…
While this is cooking and on the flip, I'll spoon some butter onto the cooking meat. Sometimes I'll add herbs like rosemary to the mix or even a clove of garlic. Mostly I just go with the basic ingredients and let the steak be the star of the show.
It's All About Who You Get to Share the Meal with That Counts…
And the final product…
A great meal that I get to share with my family.
ABOUT CROWE'S CABINETS
Got some FREE time on your hands right now…
Well cooking dinner is one thing you can do the other is to plan that kitchen you've always dreamed of, download our FREE kitchen planning guide today!
Crowe's Cabinets is here for you when it comes to kitchen design. If your family is anything like ours, all your events including birthday parties, family dinners, Super Bowl parties, and many other of your social functions end up in your kitchen, which makes it the most important room in your home.
The kitchen is the heart of your home and we want to be there every step of the way with you.
We've proudly been in the residential kitchen, bath and custom closet business since our inception back in 1977. Our residential kitchen business in Youngstown, Ohio now has a kitchen design center conveniently located in Poland, Ohio.
Which will give you an opportunity to come in and meet with one of our dedicated kitchen design specialists. They will work closely with you throughout the entire process of making a selection on thousands of choices on cabinets, fixtures, flooring, and countertops.
Crowe's Cabinets makes your kitchen remodel easy. We start by working with you closely by designing your kitchen. After the initial meeting, we will measure your home, design your kitchen and work with you closely to get you to the next step in the process the build.
Laying out a gameplan is key, with over 40-years of experience in kitchen remodeling you are in great hands. Crowe's Cabinets is able to help design the kitchen cabinets that will work within your budget. We pride ourselves on being on a budget and on time, which is extremely important.
It's not just about kitchen cabinets with Crowe's it's about designing, building and installing the entire kitchen. Which we will work with you to make sure you've got the perfect flooring. While we don't sell appliances, so many of our clients updating their kitchens will purchase all new appliances.
We will make sure in the measuring, building and installation process that your new appliances with be functional in the kitchen, as well as meet the aesthetics to blend in the perfect kitchen.
Countertops are key, we custom design and build solid surface countertops from a variety of high-end materials including Quartz and Corian. We work closely on granite countertops to make sure you've got the best quality, fit and installation in your new kitchen.
As you can tell it's not just about the cabinets, we will work with you to deliver a kitchen that will be the centerpiece of your home. In the residential market it goes way beyond kitchens for us.
Crowe's Cabinets takes the same approach to bathrooms, custom storage in closets, media rooms, bookshelving, storage systems in garages, the man cave and the she shed.
We like to say that if you can DREAM it, we can BUILD it.
Crowe's Cabinets is ready to design your kitchen whether a new build or remodeling project, our kitchen design team is ready to meet your needs in Youngstown, Poland, Canfield, Austintown, Boardman, Warren and the surrounding areas in the Mahoning Valley!