Crowe's Cabinets is recognized as a leader in residential & commercial casework, countertops, and custom cabinetry in Northeast Ohio & the Tri-State region.
Youngstown, OH – This family-owned company has something to Crowe about.
Crowe's Cabinets has done work for some of the most recognizable businesses in the Mahoning Valley since 1978, when co-founders Paul and Roberta Crowe started the business on their family's enclosed porch.
Now, 40-plus years later, Crowe's Cabinets employs more than 20 people, with many tenured employees committed to the company for more than 20 years. Based on this family feel within the company and its dedicated team, Crowe's Cabinets is proud to announce a recent promotion from within the organization: Rob Rivello as new general manager for both commercial and residential operations.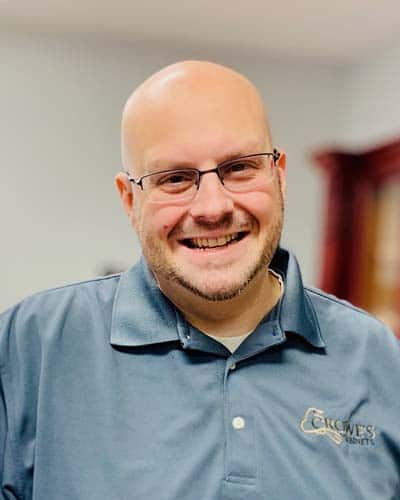 Rivello will oversee the day-to-day project management, sales, marketing, and other operations to ensure the quality of service and delivery. Since 2012, Rivello has served as Crowe's Cabinets assistant manager and estimator, but looks forward to the challenges of the new position.
"It's very rewarding to see a company with a commitment to their team to promote from within," said Rivello. "I'm very honored and excited to be taking over as general manager for Crowe's Cabinets."
Rivello will be reporting directly to Crowe's Cabinets President and CEO, Tim Crowe.
Other recent promotions from within the company include Shop Manager John Premec, who's been with the company for 20 years, and Mark Beverly, who will be moving into the office manager position, where he will be responsible for keeping projects on time and on budget.
Crowe's Cabinets projects and designs can be seen from clients including Bistro 1907, DoubleTree Hotel in Youngstown, Ohio, OH Wow!, Mercy Health, Akron Children's of Boardman, 717 Credit Union, and Youngstown Amphitheater.
Crowe's Cabinets recently remodeled their own design center, located at 590 E. Western Reserve Road in Poland, Ohio, which is open to the public and by appointment. The design center team will walk customers through every step of a custom-designed kitchen for any budget. In addition, the team also designs, builds, and installs custom cabinets for storage rooms, home offices, laundry rooms, mud rooms, she sheds, man caves, and more.
If you can dream it, we can build it.